Main page
»
Disinfectant
»
Hand disinfectant hand disinfectant hand disinfectant 3 liter 3 liter biocide Brand Antiviron - Kopie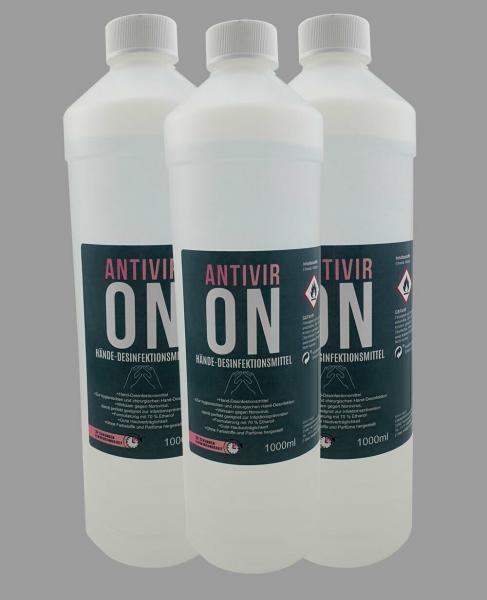 Hand disinfectant hand disinfectant hand disinfectant 3 liter 3 liter biocide Brand Antiviron - Kopie
ANTIVIRON Händedesinfektionsmittel
Desinfektion antibakteriell 70% Alkohol-Steril
Händedesinfektionsmittel Hand Desinfektionsmittel Desinfizierend 3x 1L = 3Liter
3 x 1Liter ( 1000ml )
ANTIVIRON ist ein Händedesinfektionsmittel auf Alkoholbasis.
Hand - Desinfektionsmittel
Zur hygienischen Hand-Desinfektion
Wirksam z.B. gegen Bakterien, Viren usw... damit perfekt geeignet zur Infektionsprävention.
Formulierung mit 70 % Ethanol
Gute Hautverträglichkeit
Ohne Farbstoffe und Parfüme hergestellt
neueste Chargen - Mindesthaltbarkeit ist 02/2022 bis 03/2022
Anwendung:
ANTIVIRON Händedesinfektionsmittel eignet sich für die hygienische Handdesinfektion.
Das Desinfektionsmittel soll insbesondere an den Fingerspitzen, Nagelfalzen und den Zwischenräumen Ihrer Finger eingerieben werden.
Bitte nutzen Sie das Desinfektionsmittel auf trockener Haut.
Die empfohlene Einwirkzeit beträgt mindestens 30 Sekunden.
Desinfektionsmittel Vorsichtig verwenden!
Vor Gebrauch stets Kennzeichnung und Produktinförmation lesen.
100 g Lösung enthalien 70 g Ethanol.
ANTIVIRON Händedesinfektionsmittel ist gelistet in der Datenbank der gemeldeteten Biozidprodukte
Bundesanstalt für Arbeitsschutz und Arbeitsmedizin -
BAuA Registrierungsnummer: N-86893
---------------------------------------------------------
Desinfektionsmittel eignet sich zur hygienischen Desinfektion.
Es wird als gebrauchsfertiges alkoholisches Einreibepräparat – unabhängig von Wasser und Waschbecken – in allen hygienerelevanten Bereichen des Gesundheitswesens, der Industrie, bei der Heimdialyse und auf Reisen zur Vorbeugung von Infektionen eingesetzt.
Lieferumfang:
3x ANTIVIRON Händedesinfektionsmittel 1 Liter vakumverpackt


Customer reviews
You do not have the permissions to read reviews.
You must be logged in to submit a review. Login