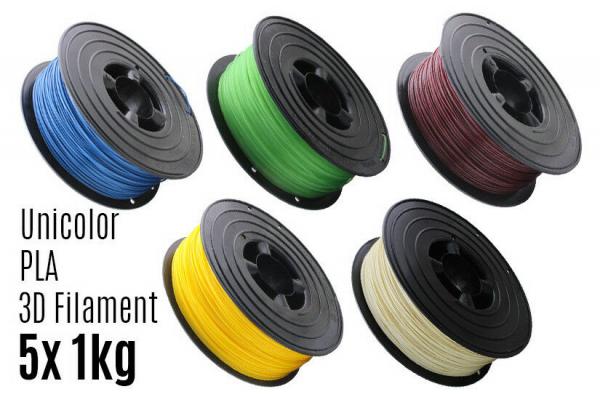 Unicolor PLA 1,75mm - Prototyping Filament- B-Ware
This offer is perfect for prototyping and test-prints.
In the moment we change the color, this rolls are produced. It's a waste to recycle them, so we thought of a special package for you, to use them for test-prints and prototyping.
To be truth, who cares about the color on a test-print? Nobody, so this Spools are perfect for this use.
The shown pictures are only examples.
This offer is limited and its made from PLA from german production.It's high quality material and the tolerances haven't got any problems.
Product informations:
PLA Filament - 1,75mm
High Class PLA ( Polylactid acids)
Made from renewable primary products, biodegradable
Nontoxic and odorless (unlike ABS / PET etc.)
Weight: 1000g coiled on plastic reel (ABS) (gross weight: nearly 1200g)
Diameter from 1,75mm and 2,85mm available, therefore compatible to most 3D printers in market.
Constant diameter with very low tolerances.
Spool Size : Outside: Ø 200mm ; Inside : Ø 52mm; Thickness: 80 mm
Colour : Lucky colours from our shop :) , little deviation possible.
Notes for using our filaments:
It is not possible to specify the printing temperature because of different behaviors of each printer model .We recommend printing a Temp-Tower via following link to find out the optimum working temperature:
https://www.thingiverse.com/thing:2430797
Delivery:
1000g high class 3D filament on plastic reel from PLA
Carton box with display window, vacuum-packed
Quick guide for use.
Color: Random, with the possibility of a color gradient.
Customer reviews
You do not have the permissions to read reviews.
You must be logged in to submit a review. Login
Customers who bought this product bought also the following products: